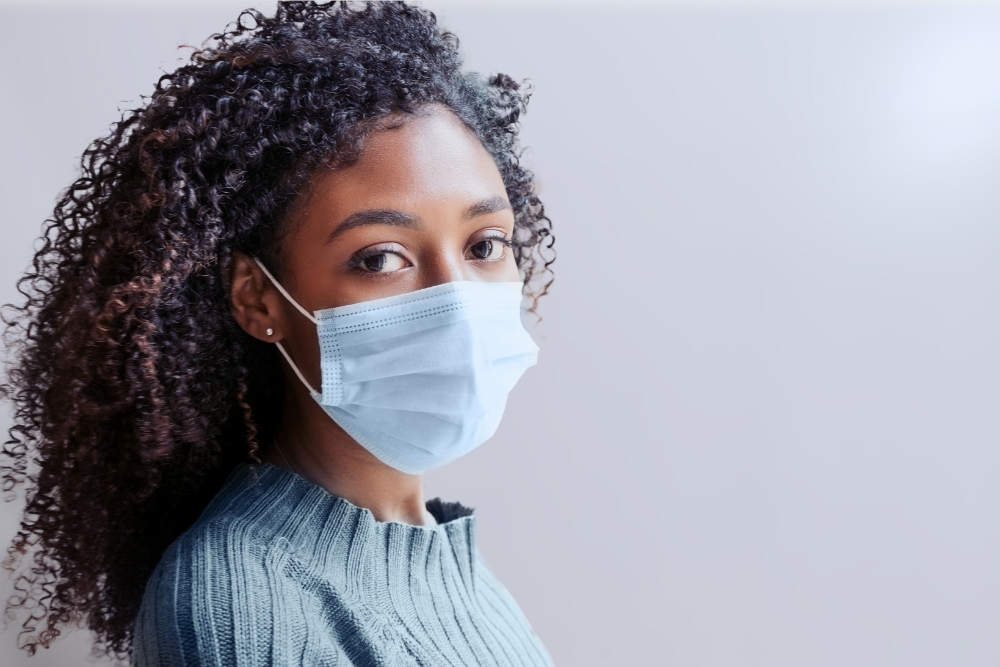 Mask and pimples : how to get rid of mascne ?
Sensation of suffocated skin, acne pimples, itching, shine… The daily wearing of masks stresses our skin. Result : pimples on the tip of the nose, chin and cheeks… Candès Africa has solutions against mascne ! Discover our 8 tips to reduce the imperfections caused by wearing a mask.
1 – Disinfect your hands before touching your face
An essential precaution against COVID and step number 1 before touching your face, it is fundamental to limit the bacteria deposit on your skin and avoid aggravating skin inflammations. Hydro-alcoholic gel and sanitizing spray are your friends.
2 – Use an anti-blemish cleansing gel
Wearing a mask increases perspiration and sebum production : your skin is shining, your pores are clogged and pimples are appearing. Daily cleansing should not be neglected to eliminate impurities accumulated during the day. Pay extra attention during cleansing and remember to top off with a toner to prevent blemishes from growing under your mask.

Recommendation : Candès Pureté Dermopurifying Cleansing Gel
3 – Soothe your skin
Irritations, itching, inflammations ? Incorporate into your facial routine a toner based on soothing floral waters such as witch hazel or rose. Apply it with a cotton pad all over the face to remove the last impurities and calm the skin. Double cleansing (gel + tonic) allows to limit the damage of mascne.

Recommendation: Candès Eclat Refresh Lightening Tonic
4 – Purify your skin with a scrub and a mask
Two must-have treatments that we can't live without ! They are essential to avoid acne pimples caused by dead cells that accumulate, to unclog pores and reduce spots. 2 to 3 times a week on cleansed skin, proceed to a gentle scrub followed by a mask with your favorite products. Enjoy a moment of self-care and relaxation (with a book or your favorite tea).
Recommendation: Candès Eclat Brightening Scrub Mask
Warning : keep a light hand on the scrub so you don't strip your skin. If you have a lot of pimples because of the mask, increase the frequency of use.
5 – Correct your pimples with a targeted treatment
Take advantage of the night to apply a highly effective and targeted treatment to correct pimples and refine skin texture. Very concentrated, it acts in depth and improves the condition of your skin if used regularly.

Recommendation : Candès Eclat Clarifying and Corrective Serum

6 – Moisturize yes, but with a product that lets the skin breathe
Don't forget that moisturizing cream is one of the key care products for a beautiful skin. It creates a barrier between the skin and the mask, limiting irritations. Choose a cream that is adapted to your skin type and that will act on imperfections (acne, pimples, spots…).

Recommendation : Candès Eclat Clarifying and Unifying Cream
7 – Be light with makeup
Beware of the foundation that macerates under the mask ! Prefer light textures such as BB creams (lighter and more airy), non-comedogenic skin care products and think about double cleansing (gel cleanser + toner) to eliminate everything. Your skin is already sensitized by the mask : your skin  needs to breathe !
8 – Treat your skin gently
Mascne is a frustrating daily inconvenience, but be careful not to attack your skin by trying to eliminate your imperfections as quickly as possible, as this will make them worse. If your acne is severe, a doctor or dermatologist will be able to recommend more suitable products from a pharmacy.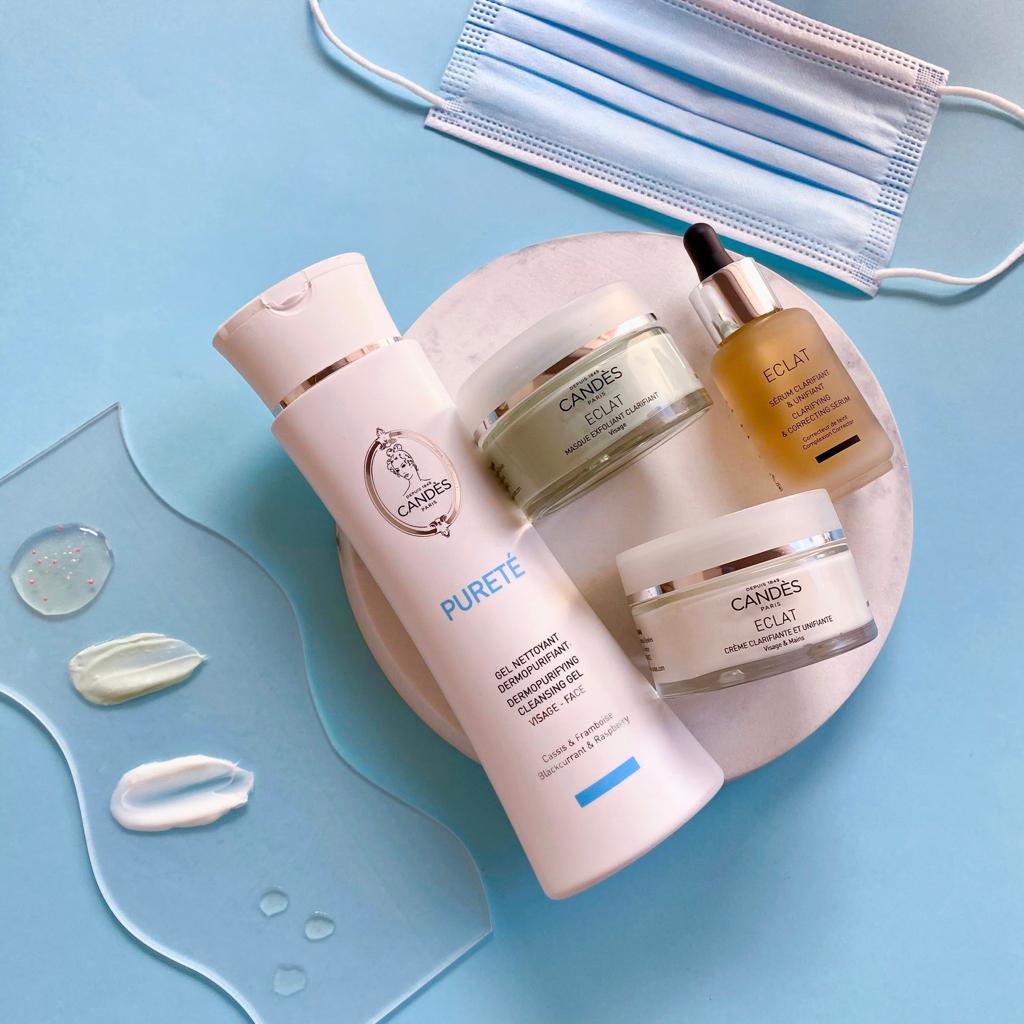 COVID is making life difficult for your skin, but now you have all the tools you need to say goodbye to mascne. Contact us for a personalized protocol. If in doubt, ask your pharmacist for advice. Good care!
Candès Africa